Visit our map index
This map depicts a small castle, suitable for a town or county. It's defensible but not particularly fitted for a siege or strong defense. First level features a great hall with a stairway that reaches the library in the second floor. Adjoining the great hall are a den, a dinning room and a small studio with a bathroom. There is also a staircase that goes down to the basement. In the back of the castle there is a chapel, it has its own entrance, although there is a secret door that connects to the main hall.




In the second level of the castle, there is a master bedroom with its own bathroom and a storage room, it also connects to a hidden room for keeping important things. There are guest bedrooms and a big library/studio.  In the section above the main entrance of the castle, there are sleeping rooms for guards and an armory, there are also shafts that open down to the defensive positions in the first floor, where there are death holes to defend the entrance.
The basement contains sleeping quarters for the servants, a kitchen and adjoining larder.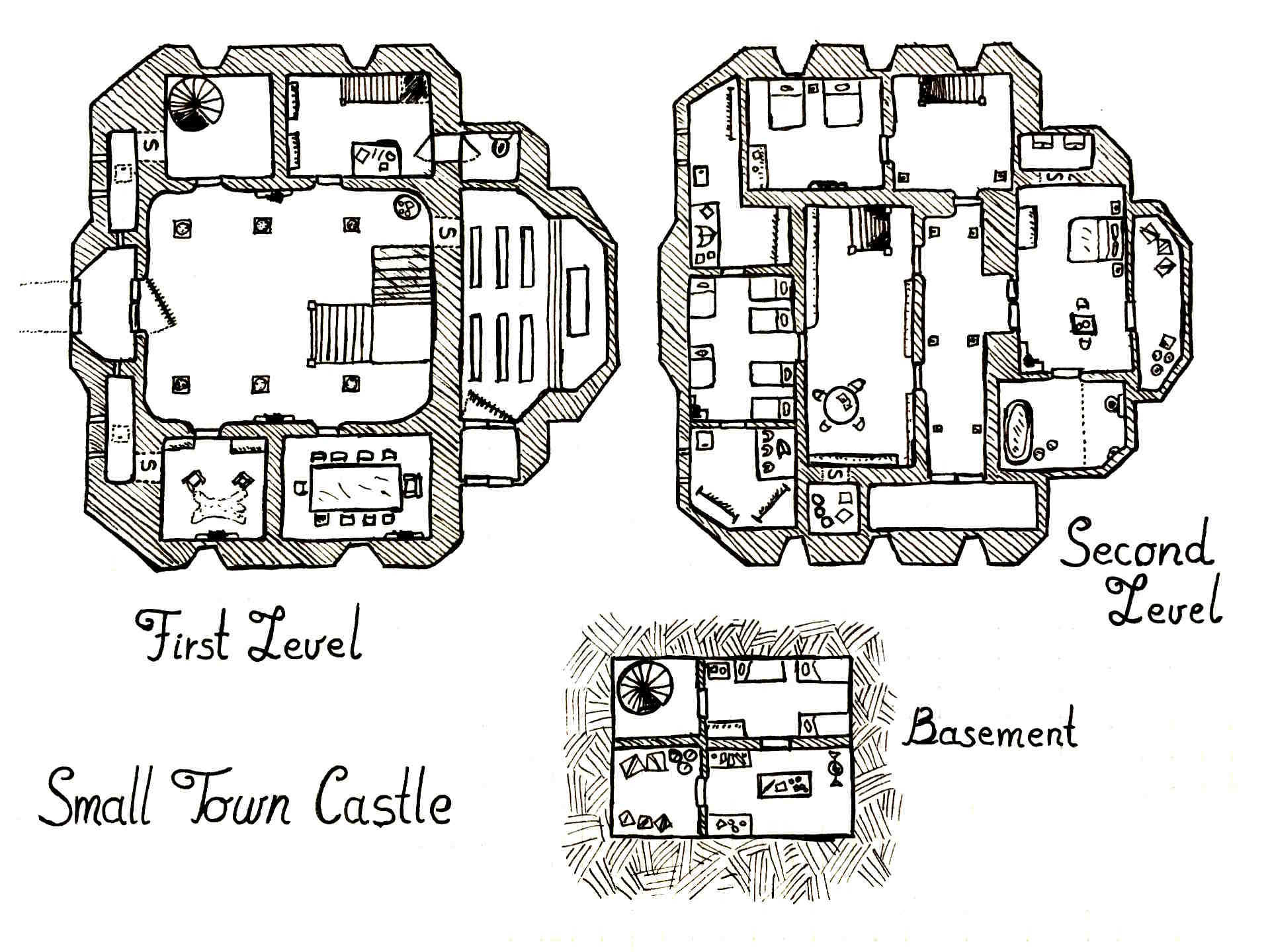 My mapping ventures are funded through Patreon, It is thanks to people who like my work that I am able to continue mapping and providing RPG original experiences to people all over the world. If you like what I do, consider getting involved and backing me.  What you get is impressive hi-def versions of my maps to be used in your RPG games (these have lower resolution), and the satisfaction of helping the rpg community grow bigger and stronger. Help me get funding and enjoy hi resolution version of all my work.
If this option is not the best for you, you can also directly make a donation through PayPal. It helps me fund this project and I will be just as grateful. Thanks a lot !!
[paypal_donation_button]
Did you like this map? There are more where this came from, visit our map index page.
Consider liking our Facebook page.
All the maps in this website are registered under the Creative Commons License Attribution-NonCommercial CC BY-NC. What this means is that anyone can use them, share them or modify them. They cannot be used commercially. And finally, credit must be given to me (Derek Ruiz) as the author, and a link to this web page must be included if it is shared or redistributed.