DON'T FORGET TO VISIT OUR MAP INDEX AND OUR PATREON FUNDING PAGE !
The local townspeaker Johnetten Darko is suddenly very worried about the recent disappearances of farmers and cattle. The small town is not big and will not sustain these losses much longer. What's more worrying is that a pair of representatives from the guard, one of them a knight, offered to look into the matter just the day before.
They parted to the nearby forest accompanied by one farmer and one hunter, but, as of now, there is no sign of them. The farmer's wife in particular, has gathered a few of the other families affected by these disappearances and are planning something. They will probably not go ahead and look for them, but, shall the decide to abandon town to flee to a bigger and better protected settlement, that could mean the near death of this town, since not enough people will remain to sustain the food production. The townspeaker is now inclined to hiring additional muscle.
What really happened is darker than anyone suspects. A few weeks ago a novice sorcerer found an ancient cave in the middle of the forest. He's not from the town but from a bigger city. He found clues to the cave's location in an old book he bought. The booked talked of power and magic, and great gifts to whoever broke the prison seal. Inside the cave he found a well of dark waters, surrounded by arcane symbols. On the other end of the chamber, he found a bronze pedestal engraved with abyssal runes and crude bas-reliefs. This pedestal was surrounded by 13 bronze pillars. He set camp in the cave and spend a few days figuring out the ritual to unlock the pedestal.   One day he prepared the ritual. He meant to free the evil spirit and magically bound him to the pedestal, in order to absorb its powers.
It worked but only partially, the fiend was bound to the bronze pedestal. But that didn't stop him from mentally possessing the magician's body and mind. The young sorcerer is now no more. What remains is a mutated humanoid form, half demon half man. He is more powerful than the human was, but nowhere near its full potential. The only way to achieve its real power is to break the bindings of its older form from the pedestal.
The demon is now a two-bodied being. Its older form is bound to the pedestal, it can cast spells and attack anyone near its black tentacles. The sorcerer-demon is free to move but cannot get away too far from the cave before breaking the bonds. The well is a summoning focus, that he can use to summon lesser fiends to his aid.
In the past weeks he has been luring people from nearby areas with mental tricks and magic. He gets them down to the cave and then ties them to one of the pillars. He needs thirteen good souls to sacrifice. If he achieves this sacrifice toll, he will be free at last, and recover his lost power. Ten of the missing townsfolk are tied to the pillars. Should the sorcerer-demon defeat the adventurers, he will be able to complete the ritual.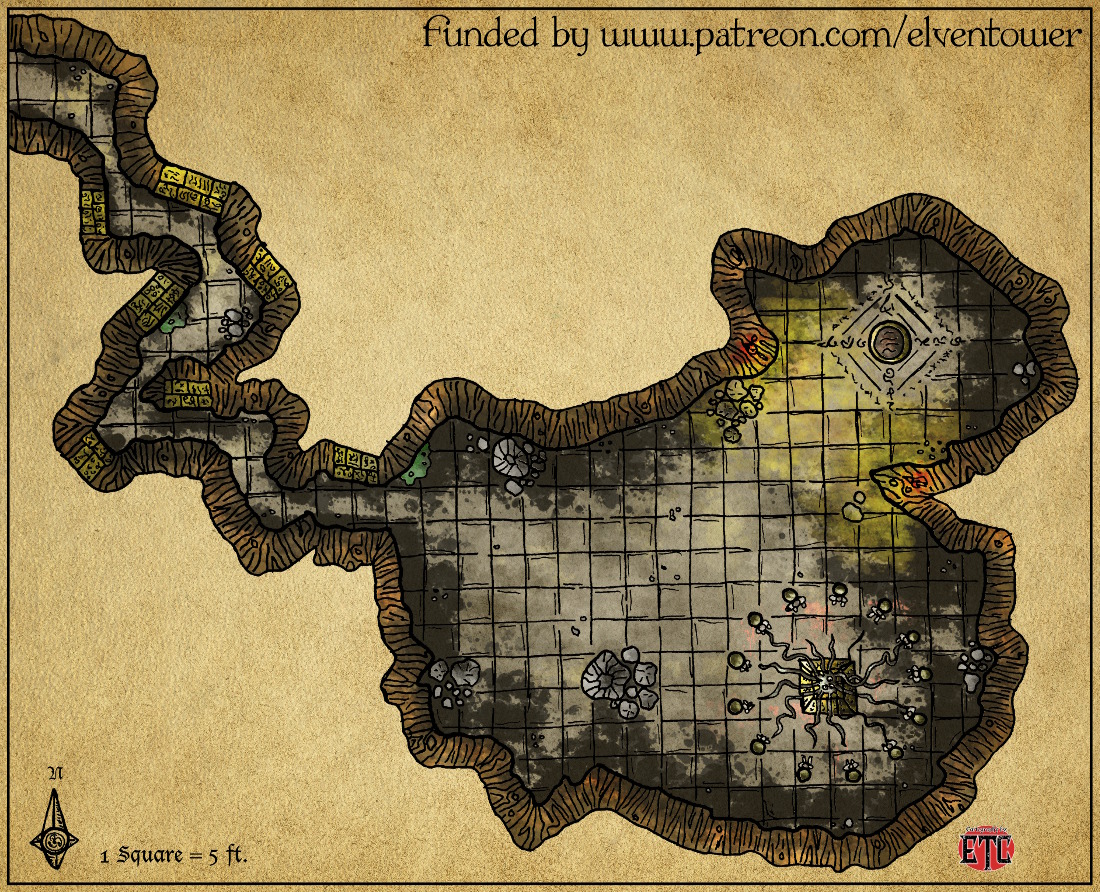 Supporting indie artists in the RPG community like me, helps make the available content better. If you have used or benefitted from my content, consider visiting my Patreon Page and maybe help with a few dollars. It can be cheap for you and very meaningful for me. Plus, you get access to all my content in high definition and different versions of my maps. With and without grids, numbers and name tags. Some of them even have versions with and without secret rooms.
My mapping ventures are funded through Patreon, It is thanks to people who like my work that I am able to continue mapping and providing RPG original experiences to people all over the world. If you like what I do, consider getting involved and backing me.  What you get is impressive hi-def versions of my maps to be used in your RPG games (these have lower resolution), and the satisfaction of helping the rpg community grow bigger and stronger. Help me get funding and enjoy high resolution PDF versions of my work.
If this option is not the best for you, you can also directly make a donation through PayPal. It helps me fund this project and I will be just as grateful. Thanks a lot !!
Did you like this map? There are more where this came from, visit our Map Vault.
Consider liking our Facebook page.
All the maps in this website are registered under the Creative Commons License Attribution-NonCommercial CC BY-NC. What this means is that anyone can use them, share them or modify them. They cannot be used commercially. And finally, credit must be given to me (Derek Ruiz) as the author, and a link to this web page must be included if it is shared or redistributed.