Visit our map index
This is an evil wizard's tower. The first level only has a permanent levitation circle that can be activated or deactivated by the wizard. It's his first line of defense since there are no stairs to access the higher levels of the tower.
The second level has accommodations and quarters for visitors. There is also a torture room and a cell. They are used constantly by the wizard to keep lab specimens. You can find the wizard's own quarters in the third level. There is also a den and living room with book cases. The wizard spends his time here, studying and researching magic.




The fourth level contains the arcane laboratory. It has everything an evil wizard or necromancer needs to research and try new magic. The last level has a permanent circle of teleportation whose sigil is known only to the wizard.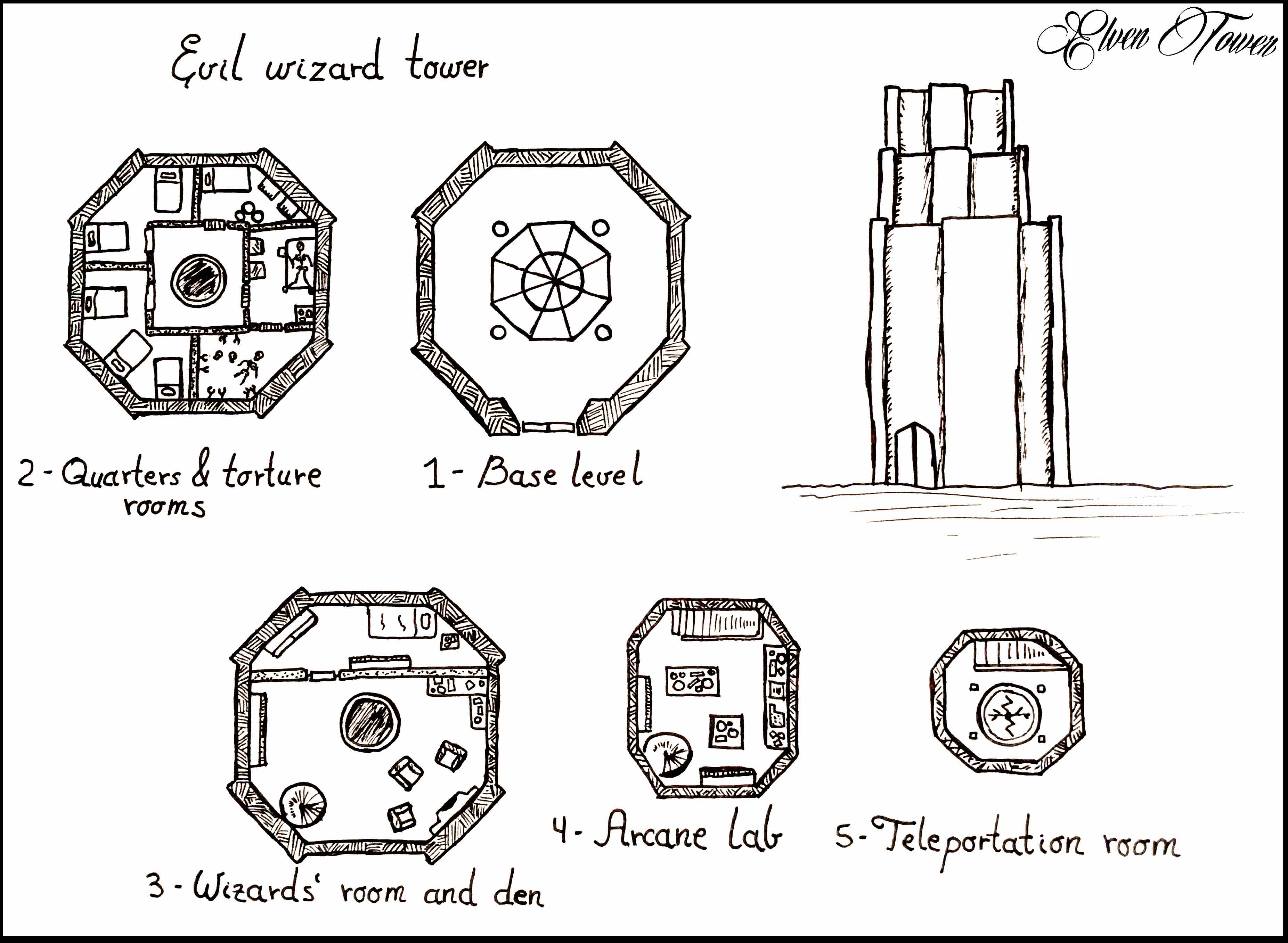 My mapping ventures are funded through Patreon, It is thanks to people who like my work that I am able to continue mapping and providing RPG original experiences to people all over the world. If you like what I do, consider getting involved and backing me.  What you get is impressive hi-def versions of my maps to be used in your RPG games (these have lower resolution), and the satisfaction of helping the rpg community grow bigger and stronger. Help me get funding and enjoy hi resolution version of all my work.
If this option is not the best for you, you can also directly make a donation through PayPal. It helps me fund this project and I will be just as grateful. Thanks a lot !!
[paypal_donation_button]
Did you like this map? There are more where this came from, visit our map index page.
Consider liking our Facebook page.
All the maps in this website are registered under the Creative Commons License Attribution-NonCommercial CC BY-NC. What this means is that anyone can use them, share them or modify them. They cannot be used commercially. And finally, credit must be given to me (Derek Ruiz) as the author, and a link to this web page must be included if it is shared or redistributed.