Important Announcement !  It is thanks to you my followers and patrons that I was nominated for Best Website in the Ennie Awards. You can vote now here. Make sure you give us a #1 if you really want to help this website. It will only take a moment and you'd be helping A LOT by doing so. Consider this a "Contact other Plane" followed by a "Suggestion" spell. I'm expecting you to fail the save. If you've used my maps or general tips, consider aiding in this perilous quest.
DON'T FORGET TO VISIT OUR MAP INDEX AND OUR PATREON FUNDING PAGE !
Here's an underground mage's hideout accessible via a hidden entrance in a cave or a teleportation circle in the mage's private quarters. I am creating new great things with image layout and decorations. I hope people are liking my developing style. I like to make illustrations that have a magic to themselves.  I decided to write something different this time, and separate the general steps I take when creating an illustration like this one.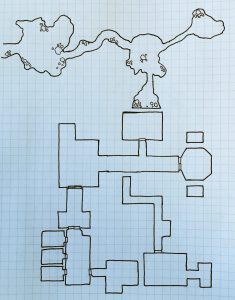 First thing is to lay down the general areas and line art. You can see I only drew the walls, doors and started adding some dirt details and rocks.
Step 2 – Add furniture and dirt. You have to take scale into account when drawing furniture. In this scale it's 5ft. per square.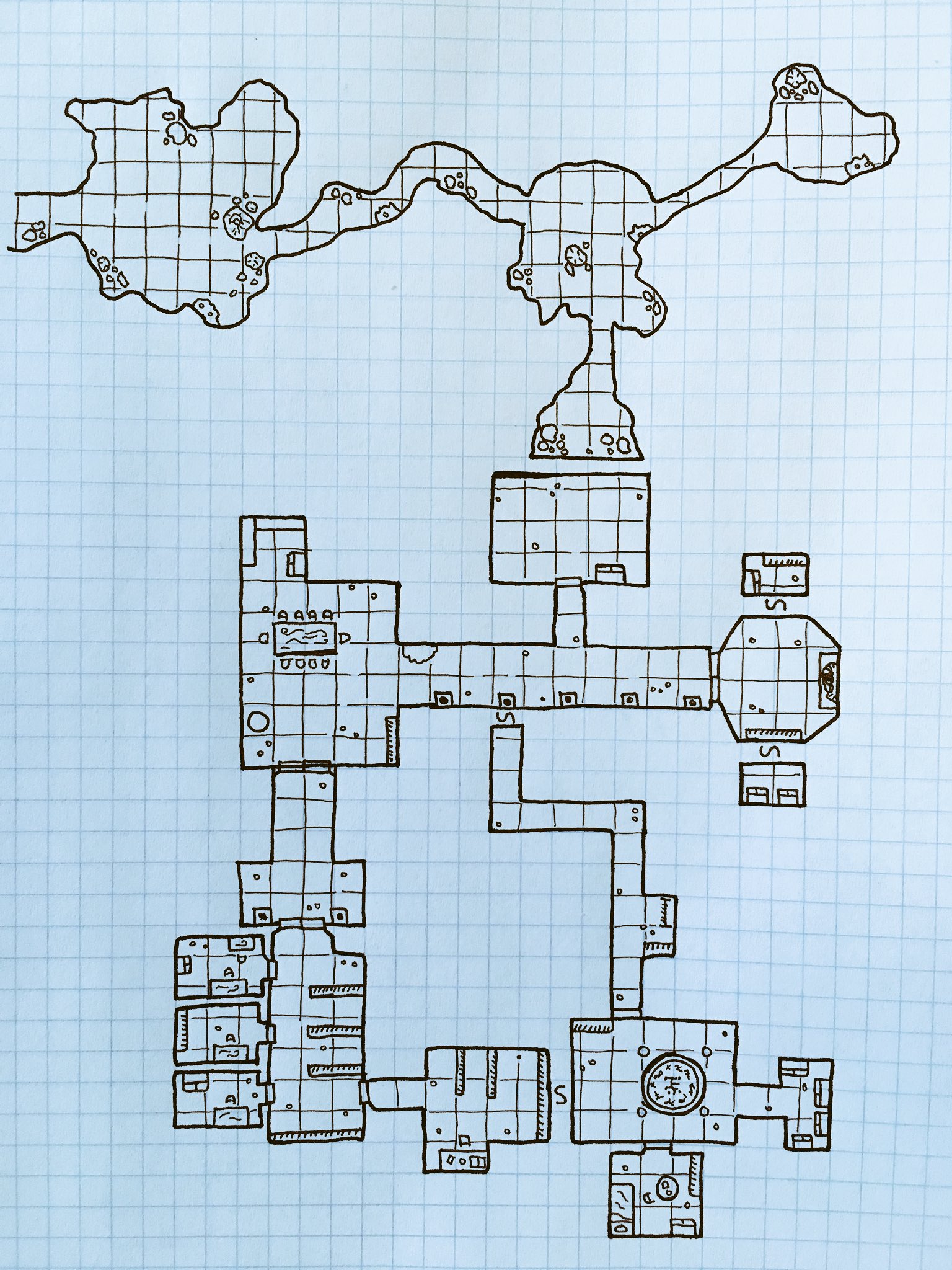 Step 3 – Draw grid, it doesn't have to be perfect, actually small mistakes and deviations are good for the final look.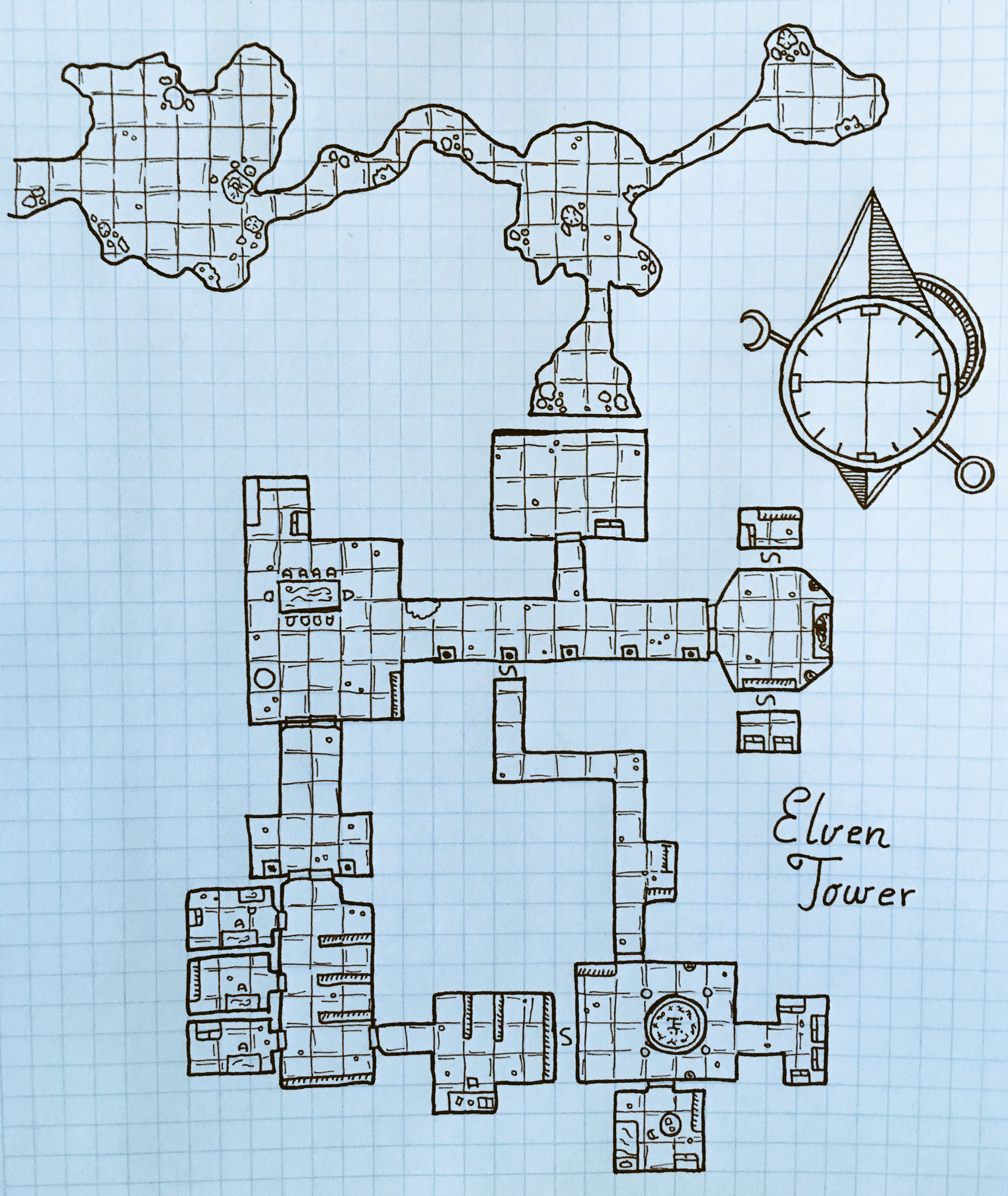 Step 4 – Add small marks and details to the floor tiles. Also I drew a North Rose, but this is an extra step, You could just mark it with an arrow.
After scanning, the next part is all done digitally, I created a paper texture background to look like old parchment. Shading and coloring explanations are beyond the scope of this article but that's what I did. Also I added layout decorations to make the illustrations look magical.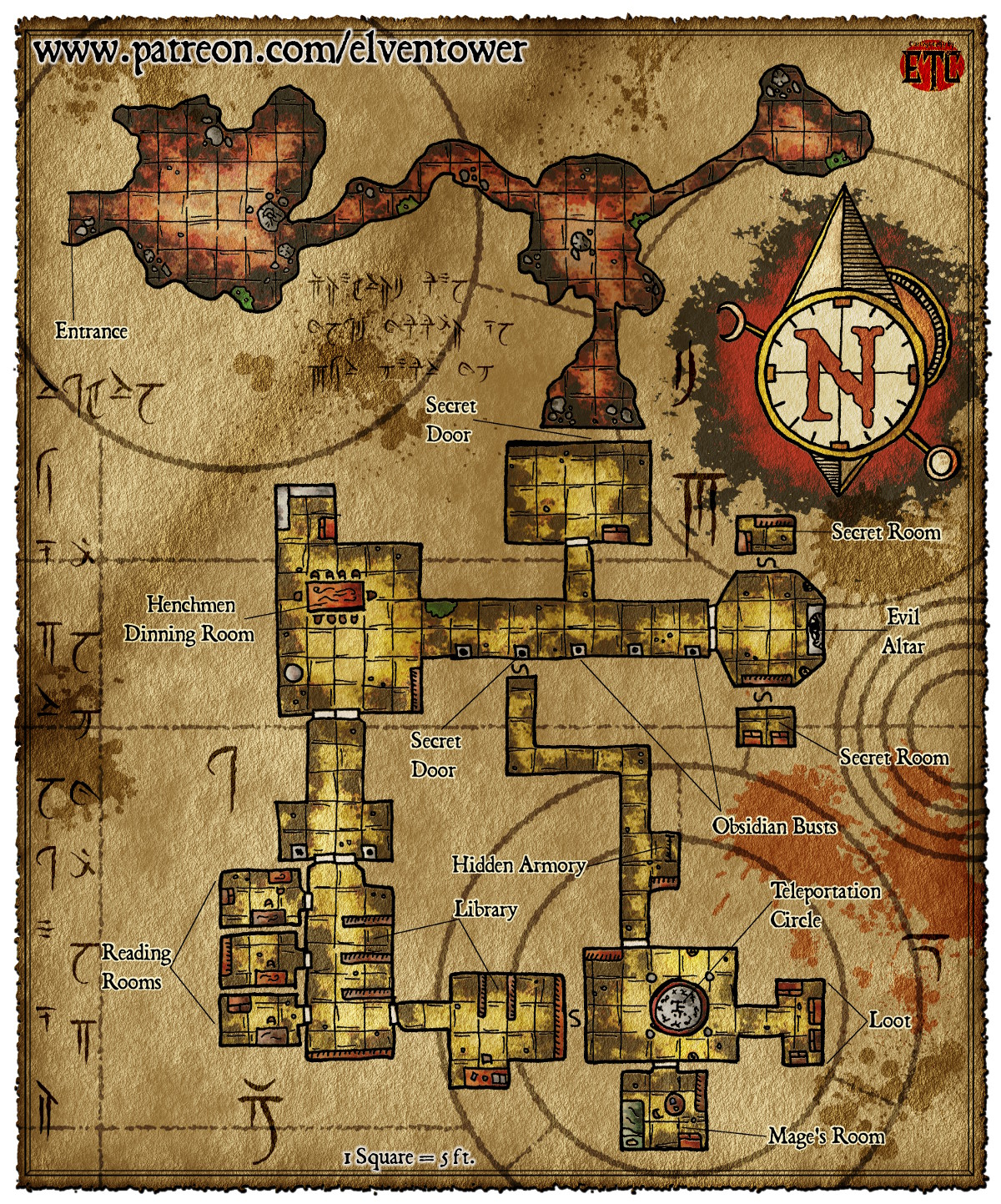 Supporting indie artists in the RPG community like me, helps make the available content better. If you have used or benefitted from my content, consider visiting my Patreon Page and maybe help with a few dollars. It can be cheap for you and very meaningful for me. Plus, you get access to all my content in high definition and different versions of my maps. With and without grids, numbers and name tags. Some of them even have versions with and without secret rooms.
My mapping ventures are funded through Patreon, It is thanks to people who like my work that I am able to continue mapping and providing RPG original experiences to people all over the world. If you like what I do, consider getting involved and backing me.  What you get is impressive hi-def versions of my maps to be used in your RPG games (these have lower resolution), and the satisfaction of helping the rpg community grow bigger and stronger. Help me get funding and enjoy high resolution PDF versions of my work.
Did you like this map? There are more where this came from, visit the Map Vault.
Consider liking our Facebook page.
All the maps in this website are registered under the Creative Commons License Attribution-NonCommercial CC BY-NC. What this means is that anyone can use them, share them or modify them. They cannot be used commercially. And finally, credit must be given to me (Derek Ruiz) as the author, and a link to this web page must be included if it is shared or redistributed.