Hello, this page is a gateway for my guide to Out of the Abyss, it's separated by chapters.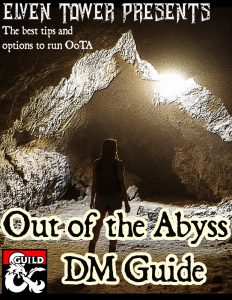 You can now buy the full guide at DM's guild. It's formatted in a single PDF document for ease of use.
Thank you for your contribution because it makes my work more rewarding, and you're not paying only for the content here, but also, you are supporting a freelance author and illustrator in the hobby.
I thank you and I hope this guide was useful to you and proved a factor in making your OoTA game a better experience for you as a DM and also for your players.
Other OoTA related content:
Writing these DM guides is time consuming, my website is funded through Patreon. I you have used and enjoyed this guide, consider helping me to keep my website growing.
It is thanks to people who like my work that I am able to continue mapping and providing RPG original experiences to people all over the world. If you like what I do, consider getting involved and backing me.  What you get is impressive hi-def versions of my maps to be used in your RPG games (these have lower resolution), and the satisfaction of helping the rpg community grow bigger and stronger. Help me get funding and enjoy hi resolution version of all my work.
If this option is not the best for you, you can also directly make a donation through PayPal. It helps me fund this project and I will be just as grateful. Thanks a lot !!
[paypal_donation_button]
Did you like this guide? Consider liking our Facebook page.
All the maps in this website are registered under the Creative Commons License Attribution-NonCommercial CC BY-NC. What this means is that anyone can use them, share them or modify them. They cannot be used commercially. And finally, credit must be given to me (Derek Ruiz) as the author, and a link to this web page must be included if it is shared or redistributed.