DON'T FORGET TO VISIT OUR MAP INDEX AND OUR PATREON FUNDING PAGE !
If adventurers ever visit this place, it is to access the arcane secrets hidden in the underground complex.  Few know that a secret to great magical power is encrypted in a stone tablet inside the complex.
If the secret of the tablet ever comes to the wrong hands, a lot would be at stake. How big is the secret or the power is up to you to decide.
Good day towerers and I'm glad to announce I created this illustration with the help of some architecture software to create the 3D view map. It looks like isometric but it really isn't. If you find it amusing or useful, let me know in a comment, I plan on using stuff like this in the near future too.
Good day everyone and thanks for your support.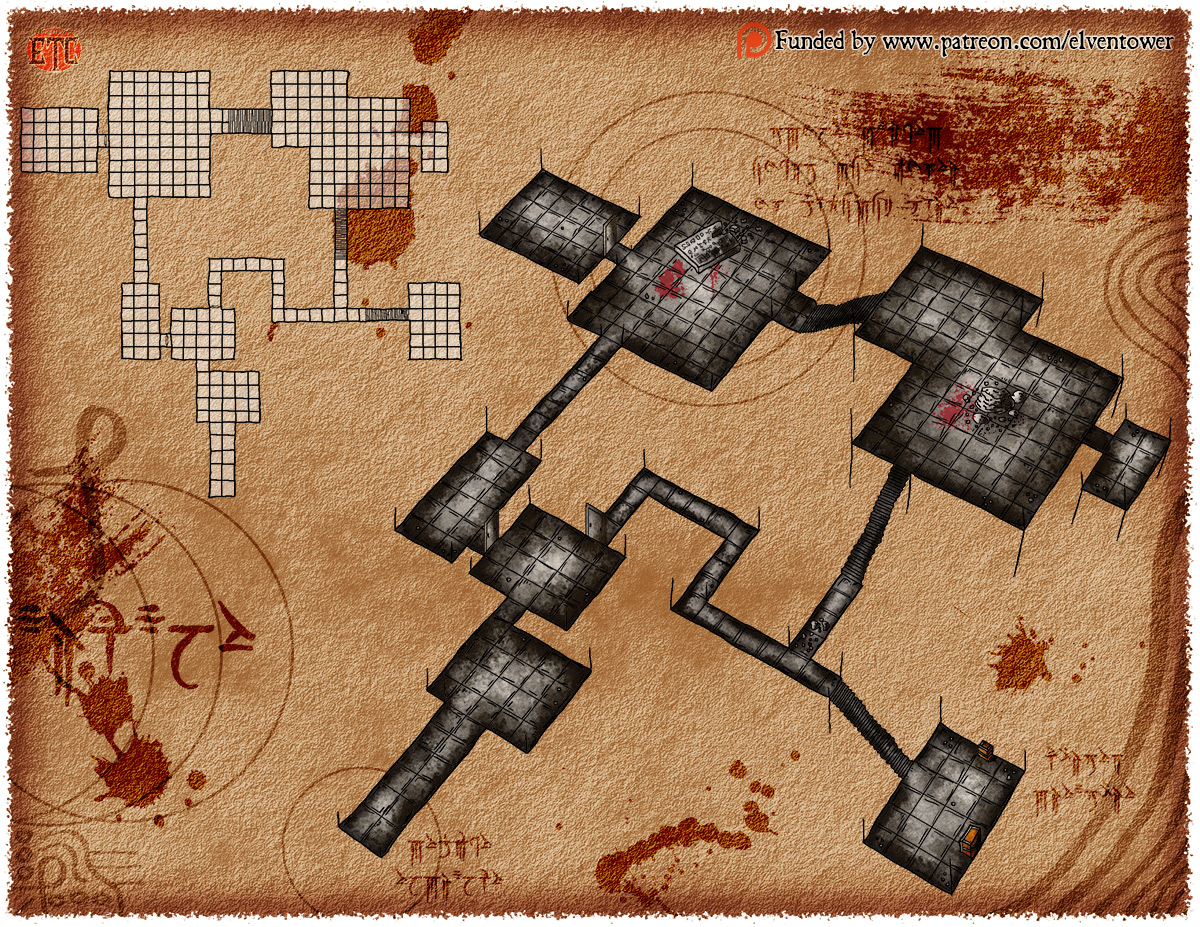 Supporting indie artists in the RPG community like me, helps make the available content better. If you have used or benefitted from my content, consider visiting my Patreon Page and maybe help with a few dollars. It can be cheap for you and very meaningful for me. Plus, you get access to all my content in high definition and different versions of my maps. With and without grids, numbers and name tags. Some of them even have versions with and without secret rooms.
My mapping ventures are funded through Patreon, It is thanks to people who like my work that I am able to continue mapping and providing RPG original experiences to people all over the world. If you like what I do, consider getting involved and backing me.  What you get is impressive hi-def versions of my maps to be used in your RPG games (these have lower resolution), and the satisfaction of helping the rpg community grow bigger and stronger. Help me get funding and enjoy high resolution PDF versions of my work.
Did you like this map? There are more where this came from, visit the Map Vault.
All the maps in this website are registered under the Creative Commons License Attribution-NonCommercial CC BY-NC. What this means is that anyone can use them, share them or modify them. They cannot be used commercially. And finally, credit must be given to me (Derek Ruiz) as the author, and a link to this web page must be included if it is shared or redistributed.