Important Announcement !  It is thanks to you my followers and patrons that I was nominated for Best Website in the Ennie Awards. You can vote now here. Make sure you give us a #1 if you really want to help this website. It will only take a moment and you'd be helping A LOT by doing so. Consider this a "Contact other Plane" followed by a "Suggestion" spell. I'm expecting you to fail the save. If you've used my maps or general tips, consider aiding in this perilous quest.
DON'T FORGET TO VISIT OUR MAP INDEX AND OUR PATREON FUNDING PAGE !
A treasure map with some scrolls was recently discovered by some archaeologists. Several reports had been received at the City Hall about the inappropriate foundations under the new church, It turns out people were right. There was an old construction underneath.
A local scribe unearthed some forgotten documents that proved there had been an old settlement thousands of years ago, in the same valley where the city was now. Explorers went down to the buried chamber and came back with a chest full of scrolls. Some of them have not been deciphered yet, but one of them is clearly a map to a nearby location right outside the city.
Suspecting that there might be some valuable historical relics to be found, the local noble house who sponsors the archaeologists is now offering payment for valiant adventurers willing to go down and explore this place, who people are now saying is a crypt.
Not much is known about this crypt. The other scrolls revealed some information but some of them still remain unreadable. What little information has been recovered is this: The main features of the crypt are the Pool of Decay, and a place called the Face of the Sun, who the chief archaeologist believes to be an altar to a long forgotten god figure.
The scroll explains that the Face of the Sun is in a basement. According to the information in the scrolls, the face will ask a question to whoever sings the verse in the scroll. Upon answering this question, the altar will offer a coin as a gift. Said coin can be thrown into the Pool of Decay to summon and receive the blessing of a mighty being.
The verse is written in elven, however not even the elf among the researchers could read it. Old books had to be consulted to make sense of the message. It's written in such an old version of elven that most words had shifted in pronunciation. The verse reads as follows:
I surrender my life to thee.
Thy will is what shapes the void.
Bathe me with your mighty light
Consider my plea with no joy.
That is the closest approximation the people in the library came up with. There is also a piece of scroll where the scholar has written the way to pronounce it correctly. It will be given to whoever goes down there to explore the crypt.
The noble house who is paying for all this decided that only strong adventurers will meet the criteria to be hired. They suspect the old crypt to be dangerous. Since valuable relics are to be brought back, the paper with the verse will be given to the explorers. Maybe that information will prove crucial towards unveiling the secrets of the past.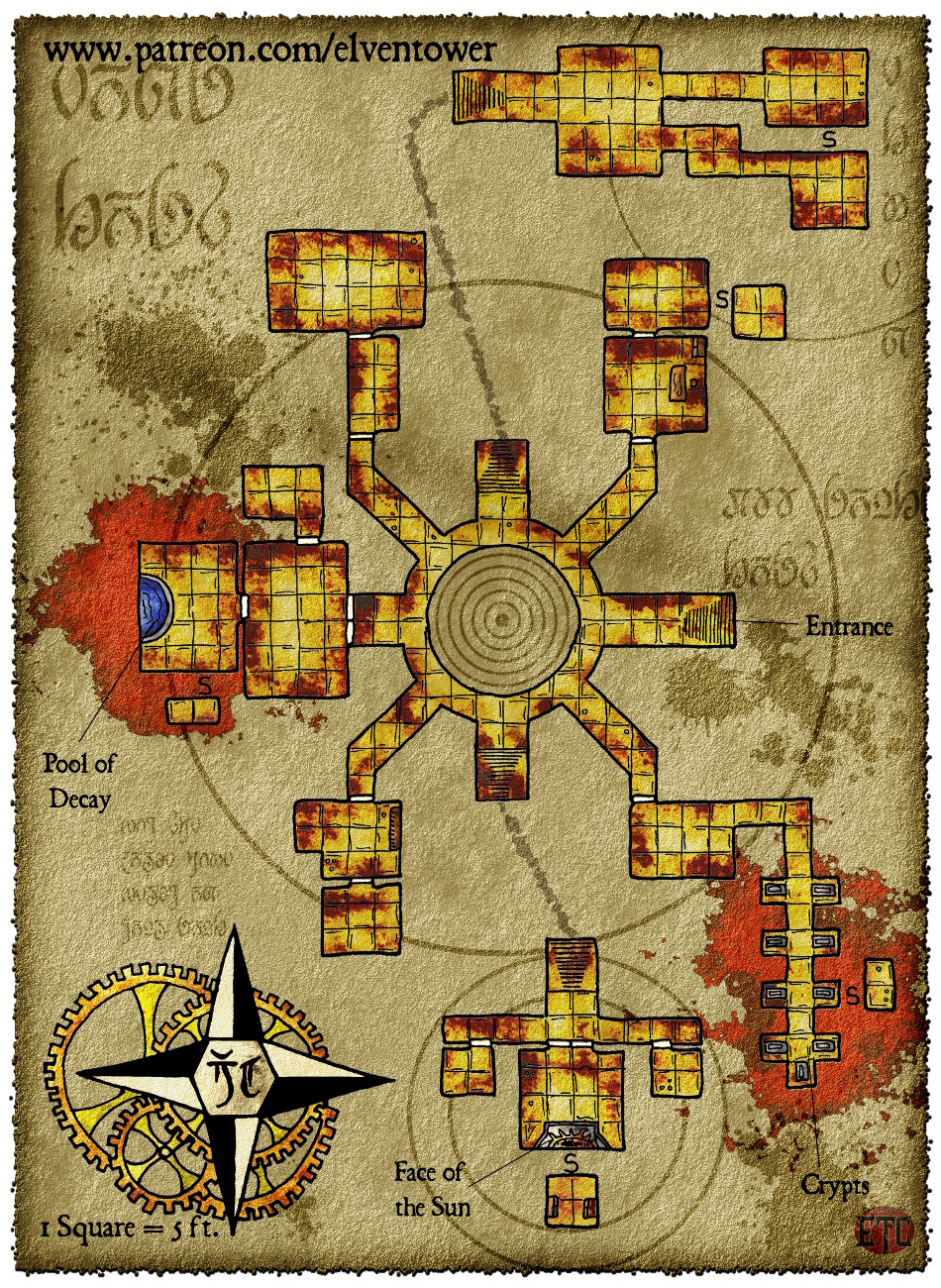 Supporting indie artists in the RPG community like me, helps make the available content better. If you have used or benefitted from my content, consider visiting my Patreon Page and maybe help with a few dollars. It can be cheap for you and very meaningful for me. Plus, you get access to all my content in high definition and different versions of my maps. With and without grids, numbers and name tags. Some of them even have versions with and without secret rooms.
My mapping ventures are funded through Patreon, It is thanks to people who like my work that I am able to continue mapping and providing RPG original experiences to people all over the world. If you like what I do, consider getting involved and backing me.  What you get is impressive hi-def versions of my maps to be used in your RPG games (these have lower resolution), and the satisfaction of helping the rpg community grow bigger and stronger. Help me get funding and enjoy high resolution PDF versions of my work.
Did you like this map? There are more where this came from, visit the Map Vault.
Consider liking our Facebook page.
All the maps in this website are registered under the Creative Commons License Attribution-NonCommercial CC BY-NC. What this means is that anyone can use them, share them or modify them. They cannot be used commercially. And finally, credit must be given to me (Derek Ruiz) as the author, and a link to this web page must be included if it is shared or redistributed.